Today industry requires dependability along with a high quality of cut. The Alfa shear is capable of meeting these requirements and offers the ability to cut a wide range of materials with varying densities and toughness.
This includes composite materials made up of woven and non-woven fibers, wire inserted rubber and high strength man-made synthetic materials containing continuous filament yarn.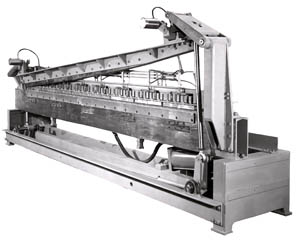 The Alfa Shear, with self-adjusting upper curved knife
The shear can consistently produce clean cuts due to the suspension of its upper knife. Unlike other shears the Alfa knife, hinged on both ends, crosses over the lower knife as the cut progresses across the sheet of material. This give the shear "bite", allowing it to produce these clean cuts.
Dependability is achieved through the self-adjusting feature of the upper curved knife to the straight lower knife. This greatly reduces the time required to change knife blades since no adjustments are needed to set the clearance of the blades or to make adjustments to allow for wear. The knife is brought down uniformly in a combination guillotine scissors action. This controlled motion increases the life of the shear as well as the accuracy when material is cut to length in a production line. The shear is powered by one cylinder, air or hydraulic, or an electrically driven crank.
Alfa manufacturers its own knives, thereby adding to the machine's dependability. These knives are manufactured from a quality high strength tool steel, allowing the manufacturer control over both the quality and delivery of knives.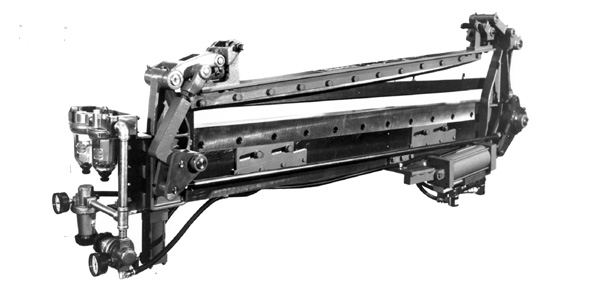 Changing knife blades can be carried out without readjusting settings
The shears are designed to stand alone or fit into established production lines. They are also custom designed and can be built to meet a customer's specific requirements, adding to their versatility.
A dependable quality shear is essential to a manufacturing operation to hold costs down. Often the maintenance downtime and scrap are overlooked in calculating the total operating cost.
---
created by Tobin Solutions, Inc.